You can activate the physical Visa card using Lili's mobile app or our web app, by going here. The step-by-step instructions can also be found below.

Mobile App:
There are two ways to activate the Lili card:
- Open your Lili app and tap "Activate your Card" in the Card Tracker located in the Banking tab
- Go to the Main Menu > My Lili Card > Settings icon, and tap on the button "Activate my physical card"

Web App:
- Go to the left panel menu and click on My Lili Card
- On the right side go to Card Actions > Card Activation > Activate Physical Card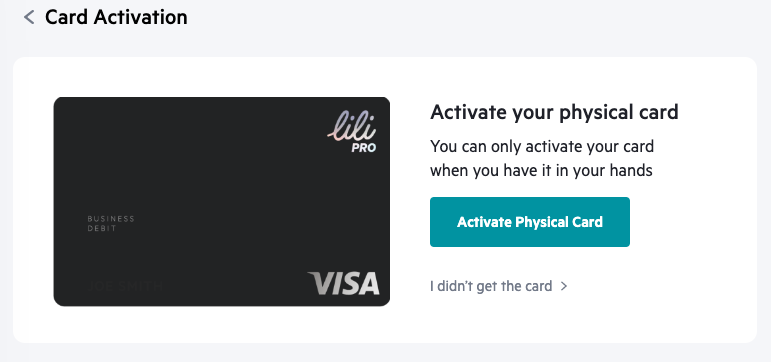 You'll need your card's expiration date and the last four digits of your card number (on the back of the card). Once your card is activated, you will also need to set up your 4-digit pin code. The PIN code is used with ATMs to withdraw and make balance inquiries.

Your digital card is always activated and can be used once your account has a positive balance.
Lili is a technology company and not a bank. Banking services are provided by Choice Financial Group, Member FDIC. The Lili Visa® Business Debit Card is issued by Choice Financial Group, Member FDIC, pursuant to a license from Visa U.S.A.